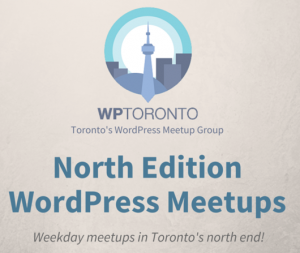 This September's North York 'fix-your-site' Meetup had a great turn out of new and old faces with over 35 people RSVPing and over 20 WP'ers participating. Apologies for these notes being late; Our WPToronto.com organizing team has our experts review all posts for accuracy before they get to you and I have been busy trying to bring in the harvest from my northern farm. Better late than never, right? Thanks for your patience. We have a lot to bring you this fall! You're all coming to WordCamp Dec. 1st at our location in the NYCC right? We're counting on you as our home group to volunteer! But I'll hit you up officially soon enough;-)
At September's meeting we first heard from visionaryvoice (my notes say Peter and he wrote me a wonderful compliment after the Meetup on our board: "Thank you also to Kristine for her intro and being welcoming, yet real." Ditto! Appreciated!)
His site is www.seeyourstar.com, and he was looking for a good 'share content' button through a free plugin. He was also looking for a fix on his Mailchimp form.  Dan responded prior to the meeting with the social sharing plugins and by recommending the "Add to Any" plugin.
As for the Mailchimp form, it is a completely separate Software as a Service (SaaS) that can connect to your site through a plugin. This makes integration a sticking point between these two systems. The Mailchimp to WordPress plugin configuration must be correct in order for these two to work together. Correct API credentials are imperative here for connection so it is a good place to start to check for issues if the two systems aren't communicating with each other.
Our group suggested an alternative if Mailchimp integration does not work: MailPoet, which is a WordPress-based email marketing plugin. MailPoet can send out 1000 emails per half day. Since most of us don't need much more email than that, this native system is a good choice because it is easy to use and integrate.
MailPoet has some great features which you can use to announce new blog posts, events etc. And you can configure it to 'set it and forget it' so it will do the 'announcement' work for you each month.
MailPoet does have a paid option if you're interested in much faster and larger email blasts and they offer analytics on whom opens and reads your announcements and which links they click on (my opinion is that analytics offer you a glimpse at your email marketing ROI, important for any business and especially for the business owner looking to invest marketing dollars in online prospecting).
Beverly asked about a Google map not appearing on her "Contact" page. Her site is www.tarottoday.ca and is currently under development. She is using the Divi theme from Elegant themes and is getting an error message when she tries to put her address on a Google map embedded on her Contact Us page.
She created a Google/G Suite account and applied the API Key. The error message she gets is: "Oops something has gone wrong. This page didn't load Google Maps correctly. See the JavaScript console for technical details." We checked the error message in the Google Maps documentation:
There's a note for Canadians: Under certain circumstances, a darkened map, or 'negative' Street View image, watermarked with the text "for development purposes only", may be displayed. This behavior typically indicates issues with either an API key or billing. In order to use Google Maps Platform products, billing must be enabled on your account, and all requests must include a valid API key.
Dan suggested on the Meetup board that Beverly be sure that she had enabled a few API keys, not only the API on the map one because he had just tested with a Divi site and made it work only after enabling the other API's too. See screenshot for more details.
Alex tackled the issue by checking on one of his websites that uses the Google Map API inside the Modern Tribe Events Calendar plugin. He was able to confirm that the Google Maps API and Geocode API have been turned on.
There has been some issues with Google Maps that need your credit card number to use their service that was previously free to use. Google Maps above a certain volume ($200) will invoke a charge, but for most very small sites there will be no charge even though you've added a credit card. There may also be issues around Divi's page builder and Google Maps. Divi has a live-edit visual editor which makes it very attractive for new users but has a lot of code underlying it that can get in the way of integrations with other systems.
Alex tried changing the map to another centre address and checked that there were no restrictions on the URL or the API so that eliminated a problem in the theme, Divi. And it can't be Google as the Maps API was active, so there's a chance the error message that focused on Brazil, Canada and India is the situation that Beverly is up against: A JavaScript error is causing Google Map issues for our countries.  
This turned the discussion to page builders again. The issue with them is that they are NOT WordPress so they can often conflict with WP or other plugins, confine WP functionality and so when you run into an issue and you're using a page builder, to troubleshoot, you have to try your site without the page builder to see if you can identify it as the problem. It's a process of eliminating all the possible issues and see if you're just left with a Javascript error at the end. We are all hoping that with the release of WP 5.0 and the new Gutenberg editor, it reduces the need for complex 3rd party page builders that can cause problems.
We went through a debugging session of using the Developer Tools console, to explore the code behind the site with a right click of the mouse on the area under examination. A console appears that will show you if there are errors on the site. If you see anything red in your console, you have issues. You should make sure that your WP code, theme and plugins are all up to date at all times.
Margaret asked if there is a way to automatically update her sites and plugins. Drew suggested that there are several plugins in the repository that can perform automatic updates. However, he cautioned, performing updates automatically opens the possibility that updating a plugin or theme will break your site, possibly without you noticing.
There is an online service called Staging Pilot that copies your WordPress site into a cloud-based staging environment and performs an AI-based visual inspection of each page after doing a trial update. Dan agreed that automatic theme and plugin updates should be avoided for now, and we don't have to worry about automatic security updates because these are done to WordPress 'core'. So your plugins should be manually updated. Dan added that as for updating any media files like PDFs, you can simply overwrite the file via FTP (assuming you don't change the file's name).  
Gary had a question about back-ups and so we had the discussion of back-ups and restores again and made the distinction that having a staging site is different than having a back-up of your current site available to restore at the 1st opportunity after something goes wrong. There is a way to manually perform this function via the C-Panel but as per our usual advice, call your host 1st and see what they can do for you (getting the help you need when things go wrong is the best reason to use a host that specializes in Managed WP hosting). The best practice is to develop your site on a local host, then move to a staging site, then push the site into production and make it live.
Attention everybody: Our next meeting falls during the elections run-up and all civic centres have been booked for organization and training so we've pushed our meeting to Monday October 29th at 5-7 PM 
As per usual we ask that you post your fix requests on the Meetup message board so we are sure to tackle your request in the meeting.
Hope to see you then! Kristine
647-268-8410
p.s. Contact me directly if you can find some time to help us out on December 1st for Toronto WordCamp 2018 or before! Thx.