We had a great roundtable with many new members. Jeremy Choi of wpup.co joined us as the sponsor of the meet-up so we had lots of drinks and goodies to enjoy. Thank you Jeremy for sponsoring our North meetup. If you need small WordPress fixes, backups, security & performance at a low monthly cost – wpup.co is your best bet!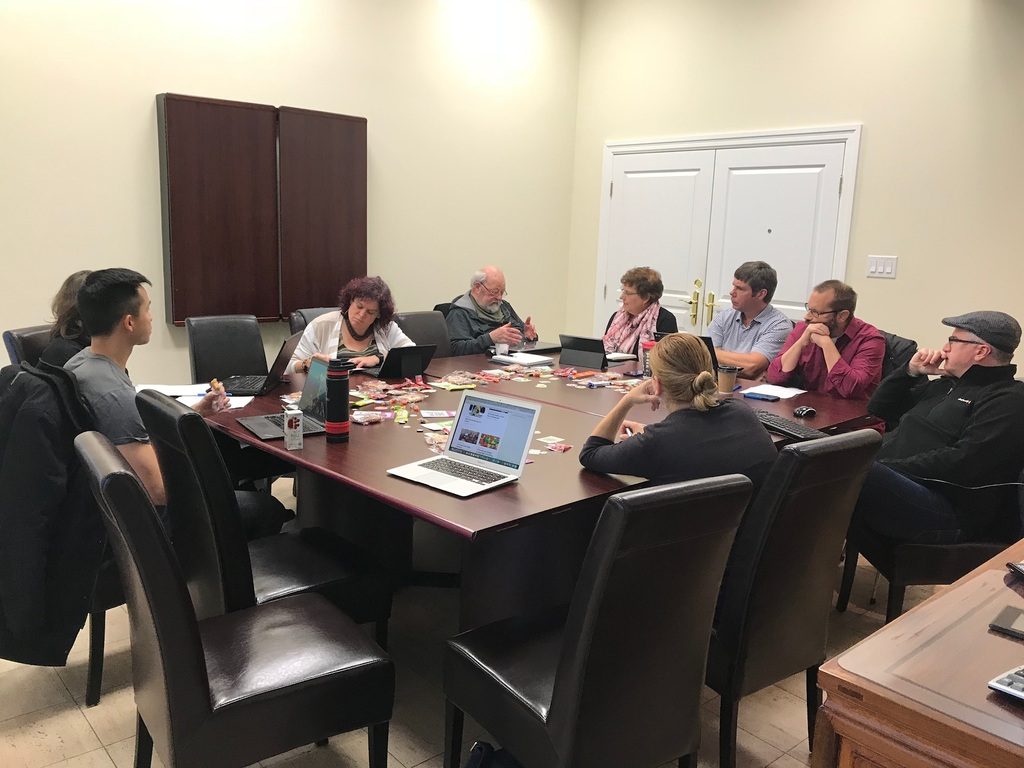 Kristine Black from NewPath Consulting brought her WordPress swag from WordCamp Toronto so everyone could go home with treats, stickers and pins.
We had brief introductions and then began our exploration of each member's' site and issues.  Alex Sirota kicked off the meeting with a problem he is experiencing: one of this WordPress websites  running on v4.8.3 is not updating plug-ins. He gets a "Site down for maintenance" message which doesn't go away.  We didn't even try to help him, but it's good to know that even experienced WordPress developers and users experience the occasional glitch.  After the meeting we found that there's a workaround to bring the site back up. Using the GoDaddy Pro Sites (ManageWP) allowed us to update plugins a few days later without issue. Sometimes fixes happen on their own.
Fernne's issue from the week before had not yet been resolved so we tackled her issue first.  She wanted a different colour for her 'scroll down' icon since the turquoise one she was using on the main site and matched her colours was not very visible on mobile.  As soon as we brought up her site however, she realized that the font displayed was not her selection.  Alex introduced us to the Console tab accessed through the Inspect function in Chrome, where we are able to see any warnings or errors on her site.  Fernne's website threw several errors.  We came to the conclusion that there was something in her design that was preventing the right font from being loaded and used. It seemed our devices were just reverting back to a default font.  The default is different on different devices so on laptops it had serif and on mobiles it was sans-serif (as she wanted) but the thought was maybe the default was Arial on mobile phones, therefore producing a closer representation of what she wanted, but was not actually the font she had chosen.  Alex suggested that we use www.browserstack.com to check what our site looks like on various browsers.  Dan thinks that the a potential fix to the font issue is to hard code the information into the .htaccess file to allow the font to load. As for the coloured arrow, our group coached that the mobile version is fine without the colour change since you only scroll down on mobile anyway so we left that for now.  Dan offered some instructions he found online to fix the issue and Alex took a screen-shot of the Console to provide to her development team.  It seems that loading the font from fonts.gstatic.com is not allowed with http:// — maybe try https:// to load the fonts. In the end, Jeremy was able to provide Fernne the proper fix she needed to give to her web developers and web host which resulted in fixing the problem.
Tim was a new attendee and is the administer for three sites.  We pulled up the one he had created for his wife, pirillo.ca.  He asked why the picture on the homepage gets cut off at the top.  We weren't really able to answer that because it is theme-related.  He also asked why his FaceBook pixel was not working consistently (so that he can track who visits his sites).  The group asked how he had loaded it.  We looked and could not find it installed but Tim says it works some of the time so it must be there somewhere.  Apparently it is not simple to install and has to be done manually or through a paid plug-in.  Alex also mentioned that if Tim was not using a child theme, when the updates are done, he will lose Facebook Pixel functionality if it was hard-coded into the master theme.  Dan says you should use a plug-in to install Facebook pixel, so that even if you update a theme or change themes, the plugin will still work as it is not theme related.  Jeremy also gave us the tip to use ghostery.com when you want to search site anonymously so that Facebook can't collect all your data.  Tim was very helpful in offering advice to the other members throughout the meeting.  
Glenn was also new to our Meetup and was not able to get his Google+ badge on his site to connect to his Google+ account.  We dove into his WordPress dashboard, and wend into Appearance -> Widgets to find the proper footer widget that contained the Google+ link that he needs to configure. In the meantime, showed him how to use the # to stop the redirect and make sure that none of his visitors have a bad experience if they happen to click on the Google+ badge.  Armed with this information, Glenn advised us that he would be able to make the change himself after the meeting.  Glenn gave the impression that he's worked with WordPress for a while since he seemed to know a lot about the platform.  
Elizabeth, another new face, needed help for her customer service association site, cpacan.com. The site was not sending out any emails.  She was using the event espresso plug-in but no email confirmations were being sent out to new members or for receipt of payment, even though she could see the transactions were taking place. Alex got the impression that maybe her host had turned off outgoing emails since we weren't able to get a 'check email' function to work to send emails from WordPress.  Dan offered that the SendGrid plug-in which is free, might be good enough for her requirements since it lets approx. 100 emails go through daily with the free account, far more than Elizabeth needs today.  
Heinrich made his 1st appearance at our event and is working on a site for an online art gallery.  His first attempt at WordPress was 8 years ago and he gave it up in the meantime but is determined to try again.  He has used the Genesis framework and theme which has a lot of options and instructions so it is making it difficult to break into WordPress development.  Alex suggested that he take more time to understand the intricacies of the platform and the theme he chose. We did go into the admin of his site and tried to put some pages in but weren't entirely successful.  Alex suggest that he start off with a simpler theme such as 2017.  Apparently as long as you don't mess with the code, any modifications you make to your site through experimenting with the customizer, won't break your site so we're encouraged to play around with it.  
Amy, also new to us, of www.thesweetmanlife.com was not happy with her site as it was represented on mobile.  Since most of her visitors came from Pinterest, she wanted a rich mobile presentation that looked more like her website but instead she just got a paragraph or two of type.  We disabled the "enable mobile theme setting" in Jetpack and her problem was resolved, with her standard theme being rendered responsively on mobile devices.
Finally with only 10 minutes left we turned to our latest new guest, Heather, who built a site over the weekend for a client that she was meeting the next day who desperately wanted her photos to line up properly.  Each image was of different sizes and dimensions so didn't line up. After some experimentation with her Divi page builder, Dan gave us the guidance Heather needed to get her page builder to resize and line up her photos using the divider element with interesting use of padding and image alignment to "mask" identical rectangles over each image.  We still had to use dividers, resizing techniques and move the pictures around in the frame until they worked but after 25 minutes, she was on her way.  Heather can now tell her client how the WordPress Toronto North meetup saved the day. There was another site where there are issues with a configuration of a theme, that had a lightbox of opening hours that was hard coded in the theme. It would take a few hours to find/fix that so we didn't get to it.
David, another long-standing member of our group was also in attendance but luckily had no issues for us to look at since we were out of time!  Many thanks to our 3 experts, Jeremy (who sponsored our meeting and may have picked up his children late on our behalf ;-), Dan as always and Alex for running the meeting and providing pivotal advice and perspective throughout.