Hello WordPressers!
We're reviving our old Meetup.com newsletter as a weekly digest in blog post format. If you'd like to receive these updates via email, subscribe to our site using the form in the sidebar (or footer, if you're on a mobile device).
Jump to a section:
Upcoming Meetups & Events
"For August, the West End Meetup is having Users Choice and Presenting Nite. Members of the West End Meetup will not only be deciding on the topic but also presenting to their fellow attendees. There is room for 2-3 topics and already some members have suggested Important Optimization Steps for a WP Website and Analysis of the Current Top 3 Best WordPress PageBuilders."
"Participating before the meetup by submitting your question with your URL in the Comment section will allow us to offer immediate advice and get your question PRIORITIZED at the meetup. Please be clear, concise and include your website and all relevant links. Let us know what steps you've taken to try to fix your problem and where you're stuck."
Central: TBD
The Weekend WordPress series was put on hold for the season. We're looking at new venues + dates for our central (midtown/downtown) meetups. Details TBA.
Upcoming WordCamps
Looking for an immersive, all-day (or multi-day) event dedicated to WordPress? Check out these upcoming WordCamps happening near Toronto:
Check out the full listing of upcoming WordCamps happening around the world.
Help Wanted
Dylan Sears is looking for a volunteer to help with their nonprofit's website:
"Hey everyone! I'm the National Coordinator at a non-profit called Canadian Voice of Women for Peace. We're Canada's oldest national feminist peace group (est. in 1960). Historically, we've focused on issues concerning nuclear weapons, disarmament, and non-violence.
I recently had help updating our WordPress site but my volunteer is no longer able to support the project. I'm looking for someone who might be interested in volunteering their time to support our work and help me develop the site. Ideally, the person would be interested in the cause and motivated to see the completion of the site through.
I'm somewhat tech savvy but have minimal experience with WordPress. Last night my home page disappeared and I haven't been able to get it back! So while long(er) term support is ideal, short-term help in figuring out WordPress is GREATLY appreciated!
www.vowpeace.org (it usually has a cool homepage)"
If you're interested in volunteering, use the form below to contact Dylan:
[contact-form to="dylan@vowpeace.org" subject="Re: Volunteer needed for WordPress help"][contact-field label="Name" type="name" required="1″][contact-field label="Email" type="email" required="1″][contact-field label="Message" type="textarea"][/contact-form]
WordPress News
A quick roundup of trending WordPress and WordPress-related news from the past week.
1. Atomic Blocks is a theme designed for Gutenberg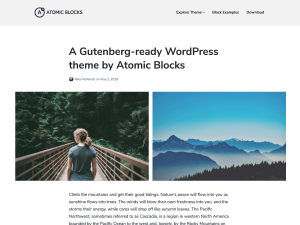 "The theme allows users to control the width of the content area to create full-screen posts and pages. It supports full-screen images, videos, and galleries, showcasing the new editor's wide alignment styles for content. Atomic Blocks includes Customizer options for uploading a logo, customizing the font style, setting body and title font sizes, and selecting an accent color."
Check out the post on WPTavern or take a look at the theme for yourself.
2. Interview with Matt Mullenweg at WordCamp Europe 2018
"We were lucky to sit down with Matt after the keynote to chat more about Gutenberg, the future of WordPress, Girls and Cats (!), how designers and developers collaborate at Automattic, and more. Enjoy!"
Watch the full interview (or read the transcript) on the GoDaddy UK blog.
3. Getting ready for Gutenberg in large orgs
NC State University is preparing for the move to Gutenberg, and they've been sharing their learnings along the way. Check out their in-depth user testing project in February, and their presentation from WPCampus earlier this month.
4. For developers: Preparing your plugins for Gutenberg
This one comes from the team at WordPress.com VIP:
"We're sharing our findings and process here for those who may be at that "I don't yet know what I don't know" stage in their Gutenberg transition. […] We've been advocating for a transitional approach to Gutenberg, so we decided to break this project into manageable stages for ourselves."
Related: Check out the new Block Unit Test plugin.
5. Drop It: A new stock images plugin for Gutenberg
Sticking with the Gutenberg news, this new plugin promises to make image insertion a breeze:
"Drop it allows one click inserts/uploads of photos among the thousands of photos available on unsplash.com without leaving the Gutenberg editor."
6. Gutenberg 3.3 released with two new blocks
"Gutenberg 3.3 is available and continues the trend of refining the user experience, user interface, and tools. Two new Widget blocks have been added, Post Archives and Recent Comments."
More details from WP Tavern. Gutenberg has come a long way in the last six months. Related: Here's a full breakdown of everything that's shipped in 3.3.
7. 10up's new Simple Podcasting plugin
"When a client with several podcasts expressed interest in a simple way to manage their casts from within WordPress, we began with a review of existing solutions and plugins. We quickly identified a gap between bare bones plugins supporting a single feed and complicated plugins designed for advanced workflows, such as sponsor management. To fill that void, we created Simple Podcasting, an intuitive, lightweight, and forward looking plugin that includes beta support for Gutenberg."
Read their release announcement for more details on the project.
8. Tips for running a profitable WordPress consulting business
We see a lot of folks join our group with an interest in starting or growing their own business as a web professional. These range from side hustles to new, full-time careers. If this sounds like you, take a look at this article from WP Elevation about running a profitable consulting business.
Excerpt: "Regardless of your reasoning, profitability in WordPress consulting boils down to the same thing no matter what point you're at in your career: Genuinely enjoy what you do, be a master at it, and work smart."
9. Boost conversions by adding shortcuts to eComm sites on mobile
"Recent AB tests we've done suggest that many ecommerce sites could see an increase in mobile conversion rate by adding a "bar" of navigation links at the top of their mobile homepage, instead of relying solely on the hamburger menu."
If you're working on eCommerce websites, this is a must-read article on boosting conversions with simple navigation changes.
10. A quarterly update from the WordPress contributor teams
If you're looking for a comprehensive rundown of everything happening with the WordPress project, this is it. Each team provided a summary of what they're focusing on; what they've accomplished; and what issues they're struggling with.
Extra Stuff
Interested in helping out w/ meetups? Join our volunteer mailing list!
We're looking for volunteers to help with planning, organizing, and hosting WordPress meetups around the city. Interested?Join the mailing list.