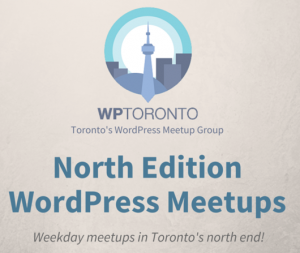 Last Monday 20 of us met at the NYCC (North York Civic Centre) for our monthly Meetup even though the rain knocked out traffic lights and reduced Yonge street to one lane in each direction.  But with the word spreading that we offer free expert advice and fixes plus the underground entrances from the subway, I'm sure our group will only continue to grow no matter the weather emergency so make sure to RSVP and participate on our Meetup page to ensure your question gets heard (and hopefully answered!)
We started with a lightning talk from Alex on his proposed presentation topic at WordCamp Niagara: Insights from a worldwide survey of managed WordPress hosts. Alex created this survey of WP Hosts 3 years ago and has updated it to reflect current offerings and pricing. Alex was surprised to see that there aren't just a handful of hosts who are offering WP specific hosting but actually there are over 50 of them world-wide that specialize in only WP hosting.  Alex asked them questions about their services including the following important qualifying measures: Security and corrective measures; Performance issues; Disaster recovery; and Development best practices to name a few.
Alex suggested that you purposely allow hackers to infiltrate your site and then see what you can do about it. Can you access your back-ups? Will your host help you? How will you survive when the eventuality of being hacked eventually happens? He is trying to impress upon us that most of us would be too scared to voluntarily offer up our site to hackers and thereby invoke all the responsibility that is entailed with bringing your hacked site back online because there is another option: Managed WP Hosting, where you enlist your host to do all of the hard work on your behalf.
Interestingly, after 3 years of publishing this survey, Alex has found that prices have actually dropped year over year because the competition in this space is so great. Drew mentioned that a little known host called Kinsta is getting good reviews and Alex does have Kinsta in the spreadsheet.  Other people in the group said that WP Engine is also very good (they should be since they are a premium host).
A note about WordCamp Niagara, our North York Meetup has both Alex and Dan presenting along with several WP Toronto organizers. We've got a full complement of members headed to wine country not only to present and take part, but also to take notes for our impending local Toronto WordCamp planned for Dec. 1st at our current North York venue, the NYCC.  Please let us know if you're interested in attending. 
On to the Site Clinic:
The 1st fix that we attempted was from Dalys who was having a problem with her text appearing on her home page. After a lot of experimenting between her page builder (Elementor), her theme and her plugin (Buddypress – a plugin for community building), we determined that the problem was in a disconnect between her theme and her page-builder.
Of course this led to a discussion on page builders vs. native WP editing (hopefully once Gutenberg is released, this discussion will be moot). We were cautioned that getting rid of page-builders or the traditional WP format all-together is an unlikely outcome. People have gotten used to interfacing through the native functionality or page-builders and in the absence of the Gutenberg release, we move further away from consensus to one WP editor.  But more on that once we see WP 5.0 released.
If your theme is not working or you're building a new site, the following recommendations were offered up from our Meetup WP experts as 'clean' themes to use: GeneratePress (authored and attended to by a Canadian), Astra (watch out for the expensive 'professional' class restrictions) and OceanWP.  
Also since Elementor asks to use page themes, figure out if you need a theme for your static pages.  A Home page needs no reproduction so perhaps using a template on this page is not the best idea (makes it too complicated). Either way, if you're going to use a template then you have to extract it into the page first and then modify it (in Dalys' case she had modified the template and assigned it to the home page). Dalys was able to overcome her problem by removing the plugins and reinstalling them.  Apparently Dalys had already spent a week trying to figure out the issue so I'm hoping our clinic offered a week's worth of help and that she can move forward without wasting any more time.
Japi is new to our group and is a young, eager computer science student who is trying to code his WP site from scratch! Although we love the idea of his inquisitive brain, we cautioned him that he does not need to reinvent the wheel by building everything from scratch. Japi too can call upon the benefits of the light, clean code themes we recommend to give his site(s) the benefit of a solid base while he spends his time on aspects that have not yet been developed by others. However, as his fix request, Japi is looking to provide 15 second clips of his videos on his homepage in a way that does not affect his load time. The answer is that he use MP4s loaded into his media library because MP4s are a lot smaller than the videos/GIFs that he was using. As a Developer, there are ways to tap into the WP Gallery with code, otherwise the media library presents a piece of video in the same way it offers an image for use on your WP site.
A question was posed about Github and we found it was recently bought by Microsoft.
Mondo had a question about migrations. He is having a problem using a migration plugin (All in 1) to migrate his clients' sites from his development host to their go-to host provider. The migration never seems to go perfectly for him (link break etc.) He was wondering if it would be better to do it manually. We asked him why he wouldn't just develop on their go-to host in the 1st place and not bother migrating but there are issues around his comfort level with the other hosts, his development space and how to get a client to pay if you develop their site on their host (they already own everything this way). It was suggested that several WP managed hosts offer a migration service including WP Elevate.
Noah had an interesting question trying to find a way to aggregate data from various web sources to display on his site. He asked if we knew of a plugin that already exists along the lines of Auto-blogger. It depends on the format of the data that he's using as an input but if he can receive it in RSS, he can use a plugin such as WP RSS Aggregator. Noah is looking to aggregate odds averages from various betting sources on his site. If he can't find exactly what he's looking for, Noah was pointed to a few of the people in the group who have developed their own plugins already who can help him with the PHP and JavaScript required to build his own.
We had a new member with a similar question since he is looking to aggregate stock prices in a graphical format on his site. Drew suggested using a design visualization library to assist in the process. Alex also suggested Google Data Studio which allows you to imbed a report into your website.
We had another new member ask about how she could order of her posts in a preferred sequence instead of chronologically as they default to in WordPress. There may be a plugin that can sort post order otherwise it requires a change to the page's code.
Japi had a final question about creating and adding additional custom post formats. He's been able to change all of the formats that are currently included with WordPress but he want to create and add others and wasn't sure how to do that. In this case he was referred to Codex to "Add new custom post formats".
We are halfway to our goal of signage for our group so we appreciate any contributions to our fund. We'd like to have the new sign in service for our fall sessions and events so we hope to see you on August 20th for our next Meetup, solve your problems and accept your small donation as a thank you!  Until then, enjoy your summer and consider coming out to WordCamp Niagara in Wine Country on August 11th.  'Til then, Kristine.