This was another informative WordPress Meetup hosted by David Michaels which considered a broad brush of topics of interest to 20 attendees. The common topic was  methods to help monetize your WordPress websites. First discussion was about website specializing in motor boats driven by electric engines. The website has substantial worldwide readership but  European countries account for the second highest number of readers.So  Robin Macrae suggested that the free Weglot translation plugin could provide a good A/B test on how having pages or special tutorial translated would increase traffic to the website.
Jacques Surveyer mentionel the limits of the free Weglot translation: 1 lanuage translated and free for up to 2000 translated words. Assume you have a website with 7 pages this would cover up to 286 word on each page. However, consider that meta information and commands/instructions of widgets and components are also translated. There are also charges for number of translated pages viewed. The bottom line is that translation plugins has the attraction of potentially increasing traffic by as much as 35%. Currently implementation of the new  translation plugins  is  greatly simplified  but it still requires careful management of the setup and runtime options – watch for an upcoming detailed review at theOpenSourcery.com.
Top-down Website Design
David Michaels then introduced the idea of top-down website design. Because domin names are so precious and expensive it makes sense to start a website design with a domain name along with a well creafted logo and branding,  David suggested using sedo.com to first identify domain names close business ideas you want pursue. Sedo.com then reveals if the domain is avilable and what is the market for variations on the name : Here is a sedo search for ImageShop:

This is a potential busines idea and with this search variations on the idea are and the marketplace of domain names is revealed. David went on to tell the story of a Canadian gal that has used the top-down approach to create travel websites like  theVirginIslands.com and Durango.com: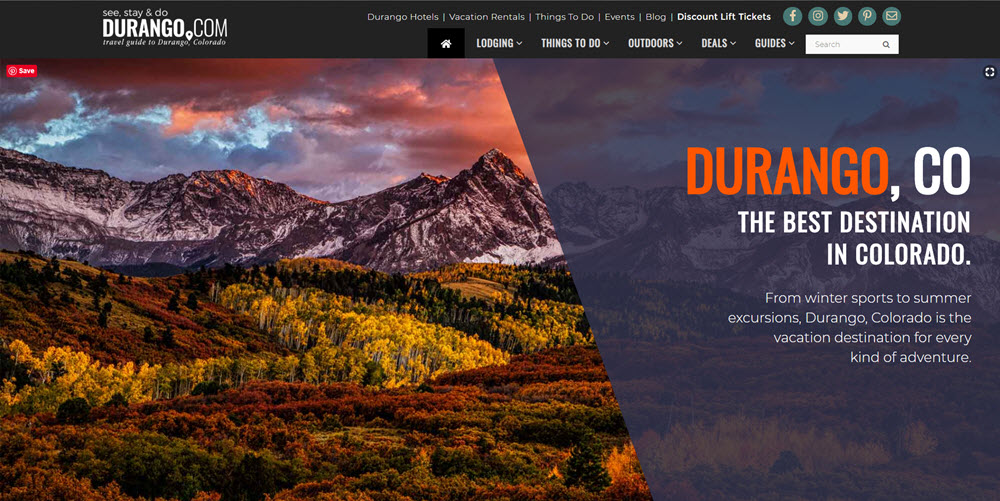 Durango.com represents a targeted entree into the travel website business dominated by the likes of Expedia and Trivago. By having the domain name for a location while offering a broad range of services beyond travel arrangements, the  website  can provide advanatges not only to website visitors but also  to the local businesses and government. Such a regional website may be more positive because it provides a broader perspective  on the locales attraction while at the same relieve local business and government  them of a challenging IT tasks while promoting their region in new, unique ways.
This is a good example of how a top down approach can break the mold to consider in delivering value in a new and more effective way. Specifically , these super travel sites add up to million dollar businesses.
Other WordPres Monetizing Gems
Following on from top-down domain idea,David emphasized creation of a logo as essential step in establising a winning brand for tthat website idea. A logo which encapsulated the brand style and mission. Logo.com was a recommended logo creator but our testing found logo.com easy to get started with but lacking in logo customization capabilities. Forunately, the web has delivered a wealth of good tools for logo and image design as seen in this comprehensive list of apps. Here are some of the better logo maker tools:
1)WixLogo – has step by step guide plus great customizer tools, $21US/logo
2)Stencil – freemium tool with basic design templates and solid tools, $9US/mo Pro
3)Fotor – freemium tool for design, collages as well as logo making,, $40US/year
4)Crello – freemium tool for logo and image design with animations
There are lots more apps to choose from because the whole graphic design and logo making market is certainly percolating with innovation.
The next two Monetizing gems have been mentioned before at the meetup. First SEOquake is a Chrome browser extension that provides comprehensive SEO info on every website you visit in Chrome. Better stil, SEOquake offers comprehensive guides on how to setup and use for the free version. Also shaking up the WordPress SEO world is the RankMath plugin. As a loyal All in one SEO plugin user for quick and effective SEO tools or Yoast for comprehensive SEO, RankMath upsets the apple cart by giving you even more and with great UI design Definitely a solid tip worth checking out. And in sum, the same can be said for this meetup