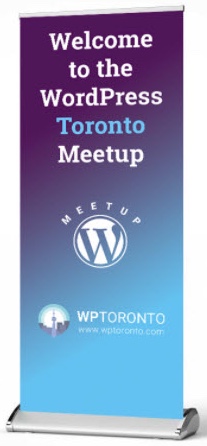 This post recaps the exchanges and tips from the Let's Fix Your WordPress Site 2020-11-17 | WPTO Meetup. This was our ninth online session using Zoom.
These notes are in 2 parts. The first is notes taken during the session and then cleaned up and supplemented and a summary and list of links compiled. The notes cover most of the discussion and make the video more useful. The second part of this post is the chat transcript with light editing of the URLs where necessary.
"Cleaned up" refers to light editing to remove surplusage, check URLs and disambiguate where possible.
The requests for help were made in the event page's comments and in Zoom's chat messages are included in the first part of the notes and discussed more or less in chronological order.
The session started at 6:30 PM and ended at 8:30 PM.
The next session is Let's Fix Your WordPress Site, 2020-12-15 Tu | WPTO Meetup.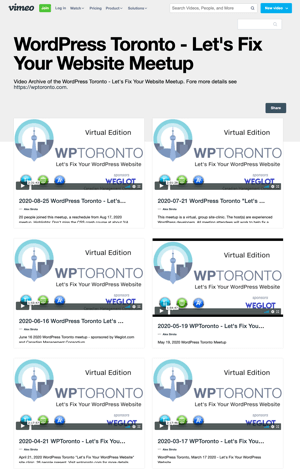 About our sponsors
This WordPress Toronto Meetup sub-group is sponsored by Weglot, the Canadian Management Consortium and WPUP.co.
Weglot is the fastest and most flexible way to translate your website. Check out a short demo.
Try Weglot out for yourself and then get 15% off as a WordPress Toronto member.
WPUP.co is a new sponsor. Its provides subscription-based maintenance services for WordPress sites. WPUP is offering WPTO members a 25% off lifetime discount.
Session notes
Summary
There were 10 questions from 8 people addressed in the session including:
List of links in the session
Dan (introduction)
In Dan's introduction to the session, he thanked our sponsor Weglot. He noted that the Meetup tomorrow, Working with Custom Forms in WordPress with WP Durham | Meetup, and that he would be speaking on Contact Form 7.
Melanie
17:00. I'll be at the event Tuesday night. I want to learn how to create a page that an image in my Projects section (Portfolio) links to. uxdwebsite.melaniecoleman.com/page_id=34, Astra theme. (Melanie is a UXD consultant.)
Dan Stramer Please share tour site address here and be ready with tour login information.
Melanie I'm not sure what you mean by tour website. My site is online and under construction. I can provide admin access to view the site. Is that what you are referring to?
Dan Yes, that's what I mean, so we can see your online website and admin access if needed.
Melanie Elementor pagebuilder page. Astra theme gallery template not used.
Dan Go to Ultimate Addons plugin's Edit Image Gallery panel, Content tab, and use How to assign custom link for images.
Melanie How do I build the post for each image?
Dan There are many ways to do this. Here's a simple one. Create a category called portfolio. Create a post for the first image. Publish the post. Use the post's URL to add to the Gallery tile in question. Repeat for each image. Consider creating an Elementor template and making the layout re-usable. Consider making that template a global template (changes to the template are retrofitted to each instance of its use).
Robin Macrae YouTube has excellent Elementor tutorials — try this search, Elementor WordPress | YouTube.
Robin The major pagebuilder plugins have template and other reusable forms of layouts and content.
Susan O'
41:00. Just sent this message via email, and have now found this page, so I will reprint here. You should be able to access my site via the link shown. Thanks,
To get started, do I "get WordPress" as instructed when I click on one link in my site?
How do I set up a backup/development site on a PC? Our webmaster set one up, but has changed our server and retired, so it is no longer accessible and he's pursuing other ventures.
Susan O' Background: Since 2008, I have had a server subscription, a domain name and a website with almost nothing on it (susanosolutions.ca), all set up by our now-retired webmaster. I downloaded WordPress at some point, but am starting up (again) on my own from today. I want to build a site I can manage myself and link to our original site, jazzword.com, and perhaps one or two others related to fields I work in.
Robin Do you have host account access? This is a key fork in the road. If you do, then you can update your 2017 version of WordPress or start a new site with a clean install. If you don't have host account access and access to the WP backend, then you need to find a host and start a new site. Given that you don't have any content in the site, there's no issue in migrating the site.
You also need to have access to your domain name registration.
(Discussion of the criteria relevant to the selection of a hosting provider.)
Susan O' (She lists her requirements.)
Susan O' How do I set up a development site?
Dan You can develop locally (for example, Flywheel's Local) or use a staging site The latter is either host provided or using a plugin. This is too complex for you at this stage. After resolving the hosting issue, start work looking for your theme with those at WordPress Themes | WP.org. Factors to consider (with Robin's annotations):
last update (the more recent the better)
installs (the more the better)
rating (higher is better)
support (are people's questions answered promptly?)
reviews (if its a popular theme, there will be reviews albeit using without criteria)
Dan For your backup requirements, use your host's backup services. They're simple and straightforward.
Robin Backups can be made using either or both of your hosting plan's backup service and/or one of the many backup plugins.
Salman Rana Susan's domain is registered with Canadian Domain Name Services, (905) 436-6814. (He used a DNS lookup service such as DNS-Lookup).
Robin In theme selection, do consider the theme that WordPress releases with each major version. Currently, that's Twenty Twenty | WP.org. Avoiding the complexity and steep learning curve for one of the popular commercial themes is a good idea for WP novices.
Rick Couchman
I'm getting a 'not secure' triangle in the address bar of my new website. AdvocateTuesday.com. Any thoughts? Thx,
Lorenzo You need to activate SSL in your provide r dashboard.
1:06. Robin. Rick Couchman has left the session after Lorenzo's suggestion in the chat window. That suggestion would address his needs if he had either or both of a new WP site or one with very little content. If either isn't the case, then there are a number of steps required to implement SSL and see Chrome's green lock icon.
SSL means that content is encrypted between the server and the browser. In other words, the information sent by a website is safe for the recipient.
Typically, your host provides an SSL certificate so that your site can deliver content using HTTPS rather than HTTP. Switching to HTTPS starts with the host but what remains to be done depends largely on the size and age of the site. To get the Google green lock icon, you have to address mixed content. Every component of a post or page's content — images, JavaScript and other resources must also be delivered with HTTPS. That may simply be adding the "S" to HTTP in the URL of a resource because there is a secure version of the resource available. If not, then you have to fix or replace the resource. Another issue is that every link from one post to another has been stored as HTTP in the site's WP database. While the operation is simple in theory, just as the "s" to the URL, such changes in the database require a tool designed for that purpose.
Dan I recommends the Really Simple SSL plugin. The AdvocateTuesday.com has SSL set up now so that plugin may do the trick because the site has no content. Chrome changes an HTTP address to an HTTPS one automagically (see Chrome automatically changes http to https) and thereby does a redirect for you.
Unknown
Robin I didn't get this person's name. My apologies.
Her site is Flyerzone.ca, Weekly Ad Circulars, Deals & Online Coupons – Download for Free.. How can I generate traffic to it. So far, it's getting very little.
Robin It looks like you aggregate grocery store flyers for consumers. Are you familiar with Flipp, a very similar site? Since you new to digital marketing and SEO, I recommend Neil Patel for starting to learn SEO and getting some results reasonably quickly. He is one of several dozen SEO gurus and his free content is excellent. YouTube is an excellent place to find SEO tutorials.
Fernne
Fernne What tool can I use to size and optimize an image?
Dan There are plugins such as ShortPixel Image Optimizer | WP.org and Smush| WP.org which will optimize your images automatically.
Robin My advice is to learn how to size images and use an optimization service or program because there are so many things to consider in the use of an image that relying on a plugin isn't a good idea.
Fernne I have so many images in the Media Library from themes that I want to delete the one I don't use.
Robin There are plugins to find unused images in the Media Library. Briefly, I've learned that nothing should go into the Media Library that isn't in use now. No storing for future use. In addition, rather than importing images directly into the Media Library, download them to your local system and then decide on resolution and optimization before uploading to the Media Library. That will avoid backups bloated with unused images and other resources.
I did some research on this recently and I'll add a note on it when I prepare the session recap post.
Robin's note:
Plugins that enable you to identify and remove unused or orphaned images from a site: WordPress plugin find Media Library unused images:
How to Clean up Your WordPress Media Library (2 Easy Methods) | WP Beginner

(a more basic version of the WP Engine post, above)

Finding and Cleaning Unused Images in the WordPress Media Library (recommends

Media Cleaner

)
Plugins to consider:
Media Cleaner is the one to try first. It's single function is cleaning and its free.
The Local 5.9.2 Adds Image Optimization via New Free Add-On | WordPress Tavern published 2020-11-18 is relevant to our discussion of Flywheel's local WordPress development product and optimization in an image processing workflow.
These people requested help and didn't attend the session.
Andy
I do need to fix one of my existing WordPress sites. But I am also looking for someone to create me two more new WordPress websites. Let me know if someone can help. Thanks.
AlfredDG
Is that a free product or is there a fee?
I do have an issue with my site which I'm hosting.
Alex Sirota More information please. Otherwise we can't help.
Local access of site menu works. Access site from web. Menus don't work.
Dan For us to help you we will need a few things:
URL of the site.
Precise description of the issue you are having, the more info the easier it will be to solve.
In the Meetup, be ready with your site including access to the admin.
Just relative idea — did you encounter this issue before?
Dan it's hard to say. You can share your issue at the Meetup and we can dig in.
The chat transcript
These are the public chat messages sent during the session.
This month's video on Vimeo has this chat transcript with each time code a link to the relevant part of the video. In other words, clicking a time code link will take you to where that part of the video. This is the first month for this feature.
18:53:29 From Rick Couchman : Lorenzo's message fixed my issue. Thanks guys and gals. Much appreciated.
18:54:10 From Lorenzo Conte : You are welcome. Happy to help. It happened to me before 🙂
19:20:30 From Lorenzo Conte : Susan your host appears to be Piscataway – Frantech Solutions
19:20:45 From Lorenzo Conte : checked with whois it is a public service
19:21:22 From Salman Rana : I quickly checked and found that Susan's domain is registered with cadns.ca
19:22:25 From Salman Rana : If Susan contacts them at (905)436-6814, they can tell her how her domain is registered and where it is pointed so she can find out where her website is hosted. This should solve her problem for figuring out her web host and getting started with WordPress build
19:42:51 From Lorenzo Conte : Sorry I have to leave the meeting. Thank you all for sharing tips and experience. I will try to join another session or post my questions about indexing and tips on design 🙂
19:44:09 From Susan O' : Lorenzo and Salman- Thanks again. I will pick up on your detective work tomorrow.
20:05:31 From Paul Warner : Thanks! I had no problem to fix… I just like to listen and learn. See you next time.
20:17:17 From Melanie Coleman : I created my first page! Thank you for all of your help :). Just have to link it to the image.
20:20:18 From Susan O' : Fabulous — and all this in one evening. I'm feeling inspired!