2020-10-20 WordPress Toronto "Let's Fix Your WordPress Website".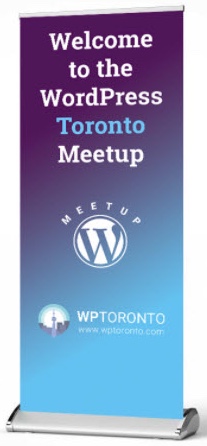 This post recaps the exchanges and tips from the Let's Fix Your WordPress Site 2020-10-20 | WPTO Meetup. This was our eighth online session using Zoom.
These notes are in 2 parts. The first is notes taken during the session and then cleaned up and supplemented and a summary and list of links compiled. The notes cover most of the discussion and make the video more useful. The second part of this post is the chat transcript with light editing of the URLs where necessary.
"Cleaned up" refers to light editing to remove surplusage, check URLs and disambiguate where possible.
The requests for help were made in the event page's comments and in Zoom's chat messages are included in the first part of the notes and discussed more or less in chronological order.
The session started at 6:30 PM and ended at 8:15 PM.
The next session is Let's Fix Your WordPress Site 2020-11-17 | WPTO Meetup.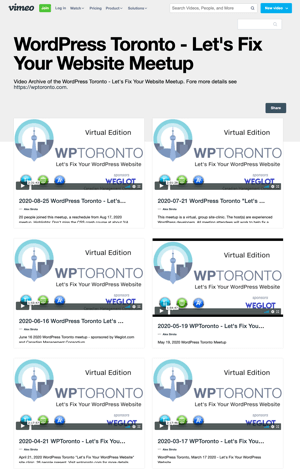 About our sponsors
This WordPress Toronto Meetup sub-group is sponsored by Weglot, the Canadian Management Consortium and WPUP.co.
Weglot is the fastest and most flexible way to translate your website. Check out a short demo.
Try Weglot out for yourself and then get 15% off as a WordPress Toronto member.
Jeremy Choi introduced WPUP.co, a new sponsor, and its subscription-based site maintenance service for WordPress sites. From his background in a digital agency, he identified an opportunity to provide a web agency like capability without the cost and thereby make a positive difference in client businesses. WPUP is offering WPTO members a 25% off lifetime discount.
Session notes
Summary
There were 13 questions from 6 people addressed in the session:
List of links in the session
Dan (introduction)
Dan opened the session and introduced first time attendees to this Meetup's background and the focus now on fixing sites. He gave a shout-out to our sponsor Weglot and Jeremy Choi introduced WPUP.co, a new sponsor this month (see the sponsorship section, above).
Mary Whittle
Thank you for holding this session. I was able to find a developer who fixed my issue – but I certainly appreciate know of this service/group.
Mylynh
When I share any article from my website (Lifestyle Tips and Self-Care Advice) on Facebook or Twitter, the preview says "title of your article" and "description of your article." I would appreciate the help to figure out where to complete this information.
Dan Stramer Check in the editing screen of your article, in the Yoast SEO section if there are any values in the social title and social description. After you fix that go to Sharing Debugger | Facebook for Developers and debug the page and then submit a scrape request. Those steps might help. At the Meetup you can share you screen and we can look further.
Mylynh Thank you so much for the quick response! The Facebook debugger was super helpful and I realized the open graph tag was showing up twice. It looks like there were two descriptions being pulled, one from the Yoast plugin and from my theme. I removed the open graph tag from my theme. This has been resolved 🙂
Dan recapped his advice. Both her theme and the Yoast plugin provided the Open Graph fields to create the meta tags. Take care to avoid duplication of capabilities especially because of the risk of confusion and over-writing. Choose one technique or method. Example of redirects.
Robin MacraeThe The Open Graph protocol popularized by Facebook, Twitter and other social media platforms is one of several ways to add structured data (metadata) to content for search purposes. Schema.org is one and the Dublin Core another. Check "opengraph" | WP.org, "schema" | WP.org and "dublin" | WP.org at WordPress Plugins | WP.org.
Fernne Kane
Also want to talk about sharing articles on Blog with my commentary; in addition, talk about the new Yoast combination method with SEMrush and how it works. https://fernnekane.com/.
The free version is up to 10 words a day.
Robin This is a new method of finding keywords in Yoast SEO 15.1, Focus keyphrases, from which you find related keyphrases. Requires registration. The base tier is a $100/m SEMrush account. See How to use the SEMrush related keyphrases feature in Yoast SEO | Yoast.
Jeremy Yoast and SEMrush have partnered.
Ferne How can I write but with minimal effort; e.g., comment on someone else's article or post; where do you promote the commentary post; can I add the text on which I'm commenting.
Ferne wants to reduce the effort involved in authoring blog posts by commenting on other blogs' posts. She asked if she could publish other blogs' posts and add her comments.
Robin You can publish excepts of someone's posts along with commentary because the Copyright Act allows that.
The Canadian Copyright Act allows the use of material from a copyright protected work (literature, musical scores, audiovisual works, etc.) without permission when certain conditions are met. People can use fair dealing for research, private study, education, parody, satire, criticism, review, and news reporting. S: About fair dealing – Fair Dealing Canada.
You would typically provide the URL to the excerpted content.
Don't ignore the issue of link rot, the phenomenon of URLs no longer working for a number of reasons. One way to deal with that problem is to use the post's Internet Wayback Machine URL. Check out Chrome extension Wayback Machine | Google Search for several ways to make using those URLs
alanc How to curate a post visual requirements; the URL for best practices for commenting on a curated post: Art of curated post | Imgur.
Jeremy [a chat item] If they give you permission [to republish someone's post or article]. You just have to set the CANONICAL link to the original author inside WordPress Here you go: Canonical URLs in Yoast SEO | Yoast @Fernne? This is how you use someone else's content that YOU have permission to use. To post on your own website.
Momo
I would appreciate if someone could help me to solve the following issue with WPML | WP.org:
The translated menus cannot be linked correctly to the translated page. For example if I'm in the FAQ page in ENGLISH and I change the language using the language switcher to GERMAN, the loaded page is still the same ENGLISH page.
We were unable to help. Try Weglot.
We finished the submitted requests.
Kathy Sterman
Site optimization for https://safss.org.
Dan optimization can refer to images, page speed, code, etc.; usually, image optimization. You can change the image's resolution to reduce its size. Yours is very large and could be reduced without loss of quality.
Kathy How do you find an image's size?
Dan Use the Chrome Inspector (Images tab) to see all of the sizes of images on a page.
Another aspect of image optimization is optimizing the image with an image compressor.
Dale Size down the image in steps rather than in one shot to get a better result.
Robin A JPG or PNG image not previously optimized by compression can be reduced in size by 80% without any problem. There are plugins such as Smush | WP.org that can automatically compress images for you.
Are you caching your site? Check with your host as most provide a caching service and/or access to a CDN such as Cloudflare. This is a popular plugin category with lots of choices. "caching" | WP.org lists a half a dozen million plus installed plugins.
Robin Site optimization isn't just images. Consider the issue of render blocking code. How to Eliminate Render-Blocking Resources in WordPress | Torque does a good job of explaining what this means and how Google's PageSpeed Insights service and the Autoptimize | WP.org and Async JavaScript | WP.org plugins can address it.
To find an image's on your desktop, use the Get Info box on a Mac or the properties box on Windows.
Dan The WP Rocket caching plugin also addresses render blocking. [Subscriptions start at $49/year. RAM]
It may be a Google service that's slowing the page: YouTube, analytics, etc.; Lazy loading was recently added to the core to minimize the render blocking effect, see Lazy-loading images in 5.5 – Make WordPress Core. There are also plugins such as Lazy Loader | WP.org.
Fraser 5 Best Motherboards for i9-9900K in 2020 (August Update). Resources (TOC for example) are being loaded that are part of a page being displayed. How come? Is it WP Rocket perhaps?
Dan Resources may be enqueued and that can be adjusted so that resources not required for a given page aren't loaded; checks to see if a shortcode or whatever is required and, if not, then don't load it; Google: conditional loading of CSS or plugin based on page.
Nicole Hart I
How do you optimize the mobile version of a site. Testing – Delta – a WordPress and Elementor Website Theme for Supernova Sites.
Dan Design for desktop vs design for mobile; design for mobile first method. [Dan demonstrates using Elementor with the mobile view so that you can make CSS changes only to the mobile version or one of the other versions.]
What's causing the large white space below the image? Dan identified the classic skin as the issue because the card skin didn't have the problem. Some setting in the default skin is adding the padding or space in question;. You can use the Advanced tab to revise the Classic skin, a per page setting. Use the Card and style it as the Classic look as a workaround. The Classic skin is fixable, though.
Nicole What are themes you can use with pagebuilders?
Robin The major pagebuilders provide starter or basic themes, Hello and Beaver Theme for example. In addition, Elementor and Beaver Builder work with a number of popular themes.
Nicole Hart II
Are there tools for [mobile layout testing]?
Dan Test your site on a phone. There are device emulators to test different mobile platforms.;
Robin Don't forget that each mobile device has multiple versions. Its the browser version in the phone that matters. For example, iPhone at iOS 9 no longer display major newspapers such as the NYT and Washing Post. Start with the most recent version of a mobile device and then work backwards if you're up to it.
Dan and Robin (wrap-up)
Robin asked if people attending today were making use of the session posts published after each Meetup on our site, WPToronto. Dan closed the session by reviewing last month's session recap post, "Let's Fix Your Website" Recap for September 15th, 2020 | WPToronto, and its several sections.
The chat transcript
These are the public chat messages sent during the session.
This month's video on Vimeo has this chat transcript with each time code a link to the relevant part of the video. In other words, clicking a time code link will take you to where that part of the video. This is the first month for this feature.