Wednesday evening meeting went well given that your Organizer inspected the Committee Room not correct location, the Council Chambers. But there is good news – Council Chambers has a battery of Media capabilities and room for at least 50 attendees. We had 11.
Cloud Computing Services
The topic itself was crammed with useful information about AWS and Azure Cloud Computing services. For example, AWS has been the pioneer in CloudComputing and has a leading market share of 34% to Aure's 11%. The AWS model of how to divy up a server is now the standard among Cloud Computing providers including its Microsoft Azure Rival: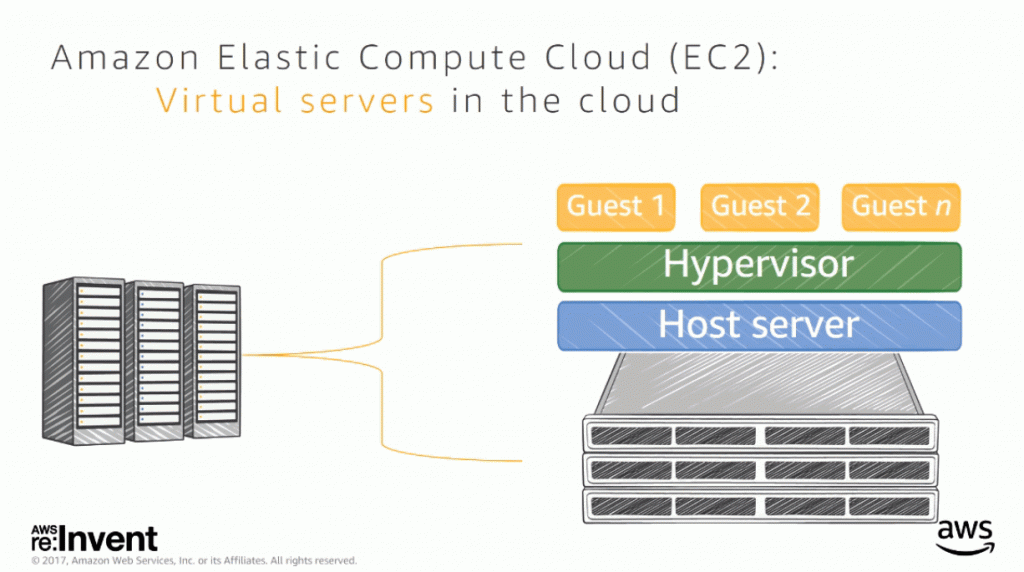 The AWS Hypervisor is the magic Cloud Orchestrator that divies up the hundreds of thousands of Intel Xeon Processors and associated memory plus SSD drive space into Instances used by the AWS customers. The "elastic" magic is that the AWS hypervisor can expand and contract a customers instances almost instantly.
And in the hosting market place both AWS and Azure are offering very low cost "getting started" Cloud Computing 1 year deals:

The AWS deal is closely matched by Microsoft Azure [I think]. And that is the problem. For 8 weeks I have been trying to get Azure PR support to price out their basic WordPress offering and then confirm the steps to do the WordPress install on an Azure instance. Microsoft Azure PR kindly offered nothing. But that is precisely the problem with using both AWS and Azure Cloud Computing. The Install WordPress process on their Cloud Services is far from the easy installation that WordPress users are familiar with.
We were prepared to demo both AWS and Azure having working Cloud Consoles for both vendors. But AWS stumbled by not being able to authorize AWS LightSail in time for the Meetup and Microsoft Azure PR kindly did nothing. This clearly sends a message to WordPress users. Maybe both vendors do not see small business WordPress website owners worth providing more than DIY-using- Google support.
Other Hosting Alternatives
Fortunately the other hosting services did provide some really cost vs performance effective offerings: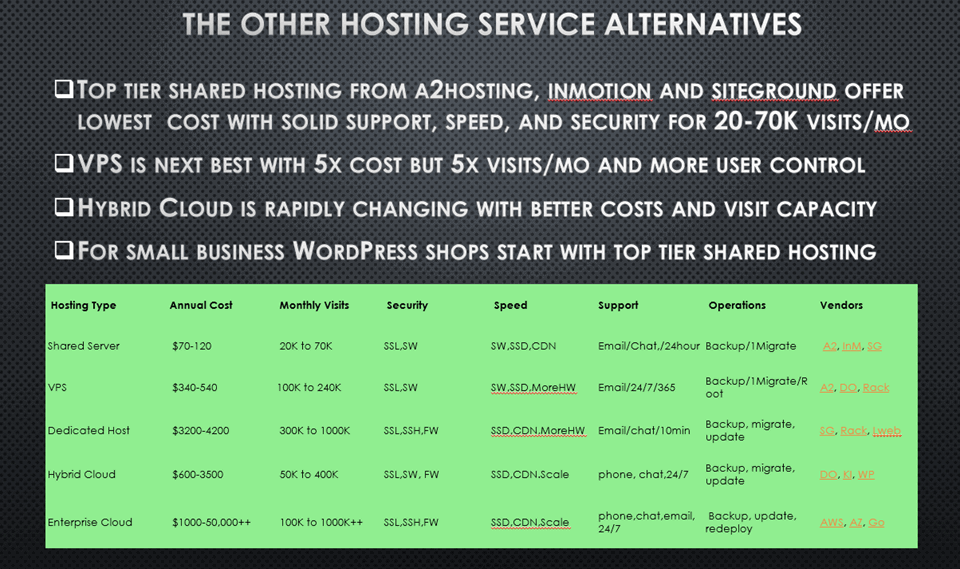 As you can see there is stiff competition for Cloud Computing hosting in the Small to Medium-scale market. And this was confirmed with anecdotal evidence. One attendee had switched from TMD, a second tier shared hosting service, to top tier SiteGround with dramatically better uptime and much lower page load time. Another attendee confirmed that InMotion hosting did have top tier performance. Meanwhile,  Boris runs a SiteGround VPS  which supports nearly eighty WordPress websites with 1 second load time or better for each website. And ye Organizer bought into a Hybrid Cloud hosting service to test  its performance for a substantial Woo Commerce website.
This was the tenor of the meeting at its close. In fact  many of the members stayed a full hour after the Meetup's close at 9PM and we overstayed posted meetup time of 9:30 and productive discussions continued to well past 10PM. In sum, a very good Meetup Group.
As promised here are the PowerPoint Slide Notes: